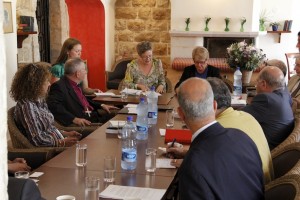 Today, Bishop Munib Younan sat with the Elders, an independent group of respected leaders who work together for peace and human rights. Founded by Nelson Mandela in 2007 and chaired by Archbishop Desmond Tutu, the Elders work to find solutions to some of the world's most challenging geo- and socio-political issues.
This event was assembled in order to update the Elders organization with a current state of affairs concerning the Israeli occupation of Palestine. A number of individuals from a diverse background were present, the former Prime Minister of Norway to representatives from the Carter Center, Just Vision, and al Quds University.
Each person who spoke of the Palestinian experience brought to the discussion a facet of living under Israeli occupation: from the challenge of simple, daily tasks, to the morbid statistics of education, low salaries and education, and the growing number of refugees, people displaced through forced removal or complete destruction of their homes.